Vendor Spotlight: Sungold Flower Co.
Our vendor spotlight this month is a floral company with humble beginnings as a one woman show operating out of Rocklands Winery between 2013-2014. Anna grew limited flowers including sunflowers, and also foraged for flowers and greens in the surrounding Poolesville, MD area. In 2016, Caitlin joined as an assistant and was handling most of the administrative side of the business, as well as assisting with foraging and production of arrangements. After working together for a year, both of them decided that they were a great team and became partners- and Sungold Flower Co. was born!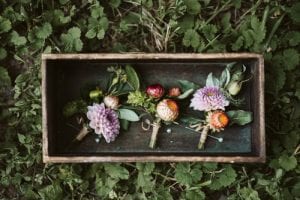 "We believe that flowers can set the tone for your event and we want that to be as original as you are." – Anna and Caitlin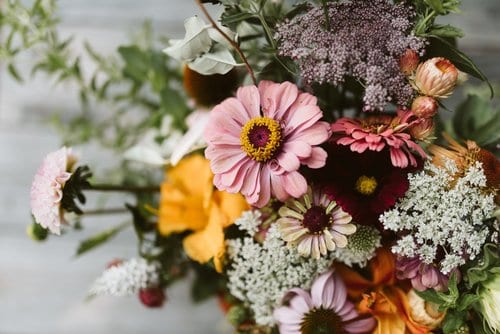 Sungold focuses on locally grown and sourced flowers and vegetation, as well as locally foraged greenery. Foraging involved searching fields and roads around Rocklands (and their homes) and is a much more sustainable solution to the expensive and excessive practice of growing flowers. All plants are in season, rather than being grown in greenhouses. It also saves on fossil fuels to not have to order blooms from California or even outside the country. They do seed and plant specific plants, including dahlias and peonies, but most of the greens used in their work are locally foraged rather than grown in their fields. Caitlin says that "they really do like creating things that look alive and feel like they belong."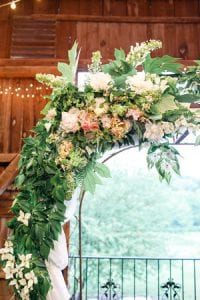 As their arrangements are entirely based on what is blooming at the time of the event, their client consultations are different than a traditional florist would have. Rather than plan their arrangement around specific colors or flowers, it's more about color palettes. One thing they do stress is that they can't ever guarantee specifics, so their brides and grooms do need to trust them and let them work their magic. Each event is unique, since they use the best of what's in bloom – so no arrangement is ever made twice.
Check them at on Instagram @sungold_flower_co to see more of their impressive work!