Is it really time to start planning my holiday party?
Sadly, summer will be over right around the corner. Soon will come an extremely busy fall, followed by another extremely busy holiday season. It's strange to think about the fact that holiday parties are right around the corner. Have you thought about what you want to do? Holiday parties are a great opportunity for companies to thank their staff, show appreciation, and enjoy each other's company in a more social setting. In today's tough climate for employee retention, a holiday party can help boost morale and bring the entire team closer together. The Center for Management and Organization Effectiveness mentions in this article how holiday parties provide an opportunity for recognition and allows employees to interact with executives and upper management.
What a holiday party shouldn't be: stressful, last minute, or so much work to plan that it's hard to appreciate the event. That's why it is important to make sure you book often and have a great group of vendors that are there to make the process smooth and seamless.
Luckily, Simply Fresh Events is here to help! We can help plan and execute all aspects of your holiday event, whether it's a simple office happy hour, or a full winter wonderland. We are a full-service catering and events company after all! In addition to handling food and staffing, we also can supply and coordinate any vendors needed for your event. This might include: photobooths, airbrush tattoo artists, entertainers, gaming tables, bands, decor, DJs and anything else that we might come up with to entertain your guests.
What about décor and a theme for my event?
With our décor and floral departments, we can work with you to create a completely customized look for your party. Our floral department creates all your arrangements at our facility and delivers them to your event for expert setup. Allow us to design suggested looks from your vision for a theme of your choosing. Themed décor is always fun for a holiday party. The Roaming Hunger Blog has 77 corporate holiday party ideas your employees will love! Or, do you want a more classic look? This is something we can also help you with!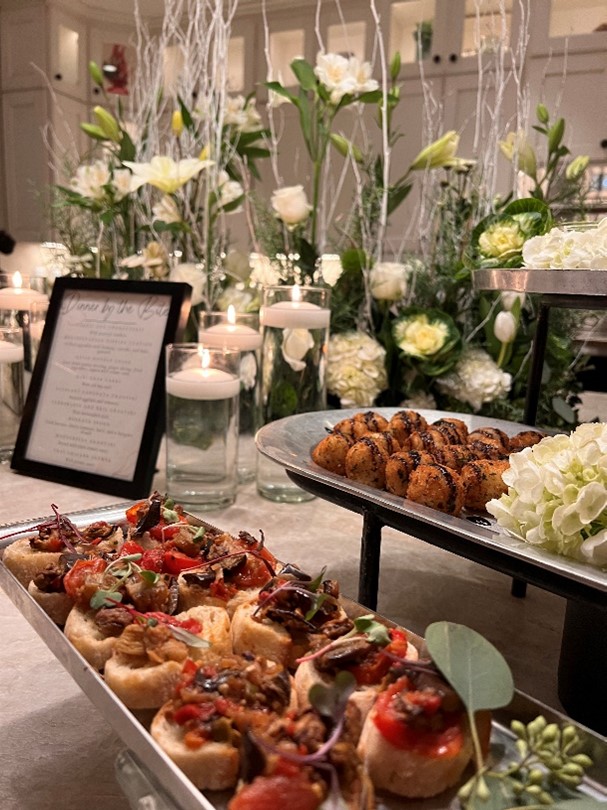 What about a bar for my event?
Our liquor license and bartenders allow us to create signature cocktails for your guests and offer winter-themed treats like spiked hot cider or boozy hot chocolate!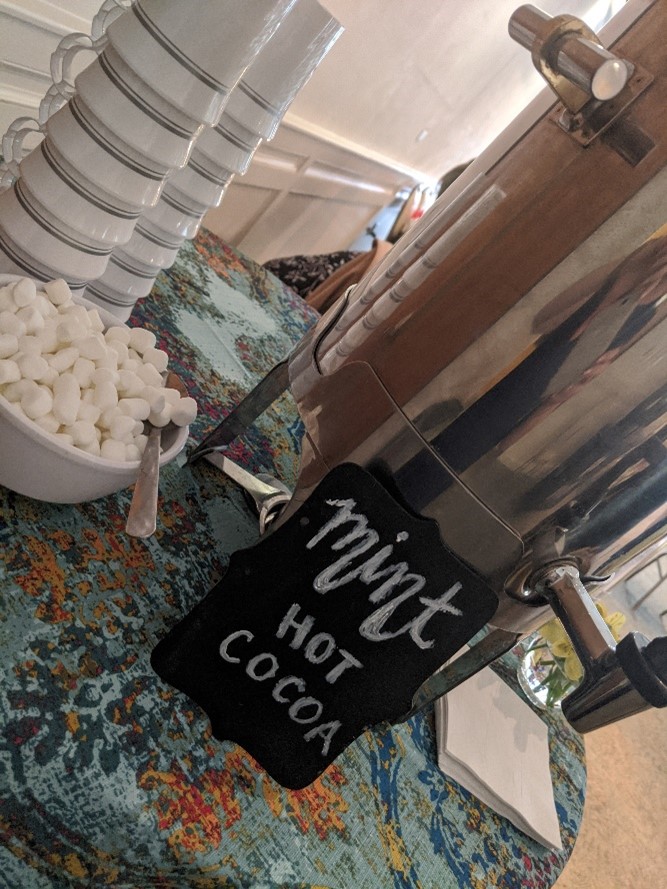 What about food? Is there something besides the same old stuff?
Are you perhaps tired of doing the tradition buffet? So many people are moving away from seated dinners for their holiday party. A lot of companies want to have staff up and mingling and doing dinner by the bite. Heavy appetizers or action stations are a great way to accomplish this! Do you want super fun and casual food like a potato skin bar, or what about a shrimp and raw bar? What about a delicious dessert table with five different bite size options for people to choose from?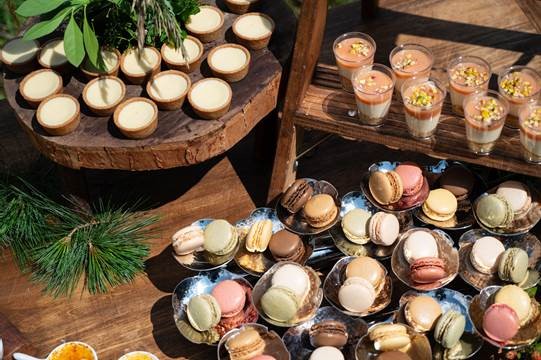 The Time is Now!
Are you ready to plan your holiday party yet? There is no need to wait! Check out just a few of our holiday options or call or reach out to us today to get started.