How To Approach Your Wedding Menu and Tasting With Your Caterer
Recently engaged? Starting to look for a caterer? Here at Simply Fresh, we encourage all our couples to be as open and honest with us when it comes to planning their menu. It's a very personalized process, and open communication is key. Here are some things to keep in mind when doing a tasting and selecting a caterer for your wedding!
Tailor your menu to the broadest audience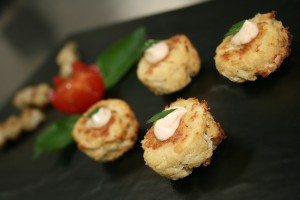 It's very thoughtful of you to keep in mind that your Aunt really doesn't care for brussels sprouts or that your third cousin once removed once had a salad with arugula they didn't enjoy. However, if those things are popular with the majority of your guest list, or it's something you really enjoy, don't fear adding it to your menu. An attentive caterer will be able to work with dietary restrictions, allergies, or dislikes. Simply Fresh Events planners ask each couple to go through their guest list and identify any restrictions for their guests so that we can be prepared to serve them. To that note…
Ensure your menu is properly labeled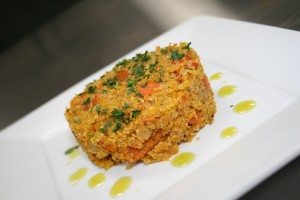 Check that the caterer plans on clearly labeling all menu items so they can be identified. Included in this labeling should be ingredients that are common allergens: peanuts, shellfish, and gluten are examples. If you have any guests that are vegetarian or vegan, you should consider having special meals substituting your protein selection with an entrée that they would like. Here at Simply Fresh Events, we always prepare a handful of entrees that are vegan, dairy-free, and gluten-free just to make sure all your guests enjoy the menu! Our warm quinoa-stuffed acorn squash is all three!
Don't skip the salad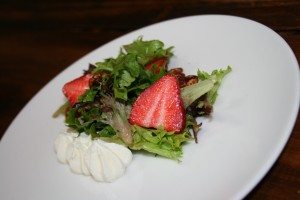 The majority of weddings we cater offer a buffet for their wedding guests. It is the most cost-efficient way to serve a crowd, there is far less food waste, and the offerings are more varied. That being said, it takes a moment to get your guests through (don't worry, we hate lines as much as you do!) and offering a salad and perhaps some warm cornbread with honey butter at the table keeps them munching while waiting. In some cases, our couples ask that the salads be waiting for their guests when they enter the space for dinner! In order to ensure that the salads aren't wilted, we dress the salads at the very last minute and do not recommend this during the hottest months.
Be honest with your caterer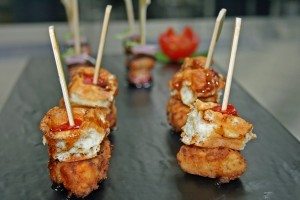 A good caterer can handle feedback – both good and bad. Are the potatoes under-salted to your taste? Is the pasta not al dente? Did you just not care for the salmon and can't put your finger on why? Tell them. This is YOUR menu for YOUR event. Your caterer should take careful notes during your tasting and ensure that it is personalized to your tastes. Don't be afraid to speak up. Here at Simply Fresh Events, our Chef sits down with you at your tasting to ask questions, get feedback, and provide suggestions if we need to go in another direction or make small tweaks.
Your wedding is unique, and your menu should be, too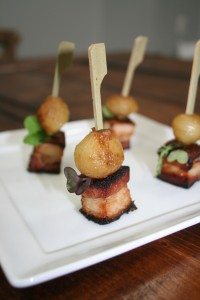 Share, share, share with your caterer. Give them a whole picture of who you are individually, and as a couple. When a couple inquires with us, we send them a questionnaire that asks about their favorite restaurants, cuisines, likes and dislikes, décor details…we want to get to know them. You'll find our menu online, but that's just scratching the surface of our offerings. Did you Grandmother make an amazing matzo ball soup? Give us the recipe and we'll make it. Do you really dig a signature dish at a popular restaurant? We'll give it a crack. Is there a dish that has sentimentality because it's what you ate on your first date? We can do that. So, if you don't see it on a menu, don't be afraid to ask. 90% of our menus at Simply Fresh Events are customized. (Ps: all of these are real scenarios that we were asked to do last year!)
Don't stress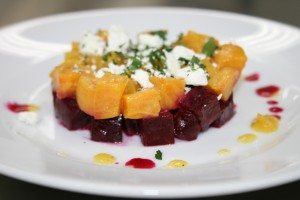 Book tastings with one caterer at a time. Give yourself time to give feedback and talk about your tasting experience. Overloading yourselves with multiple tastings week after week can be exhausting and you may miss details that matter. Take careful notes, ask questions, and make your catering choice with confidence! You should trust your caterer thoroughly, and they should be there to help you!
posted by: Simply Fresh Events

in: Weddings