Things To Keep In Mind For Your Tasting
One of the most looked-forward to aspects of the event planning process is the tastings! For most events, whether they are weddings or a corporate event, the food to be served is a very important part of the planning.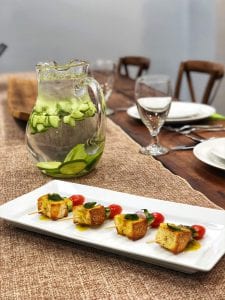 What is a tasting? Each company handles them a bit differently, but at their essence, it's an opportunity for you to have a sample menu prepared just for you by the chef. When getting started with this fun and delicious part of your planning, check with the catering company to see how they manage their tastings. Some companies have a pre-set tasting menu, with several options from their current menus that they want to showcase for you. Other companies will ask you to provide information on your likes, dislikes, and food preferences, then create a menu specifically tailored to your event. Here at Simply Fresh, our tastings are based on each individual event, and we work with the host to plan custom items for your tasting.
What questions should you ask? No matter how the caterer sets up their tastings, you should ask questions! This is your opportunity to have all your questions answered, so don't be afraid to use the chef and coordinators as a resource. We've put together a list of questions you should make sure you ask as part of your tasting, but there are a lot of resources out there as well.
What is the price involved? Some caterers charge a tasting fee, while others include the tasting as part of your planning process, and don't charge you additionally. Some companies won't charge you a fee if you have already booked with them, but will charge if you haven't signed your contract yet.
What are the options for how food is served? Are you looking for a more formal plated dinner, or more reception-style passed food? Your caterer may offer several options, including but not limited to: plated, buffet, passed, family style, carving stations and action stations (which would be any station where a staff member prepares food to order – omelets, pasta, crepes, ice cream sundaes, etc.) Many events will also use a combination of these styles – passed for cocktail hour, then buffet for dinner.
How are items presented? Buffet food in luxe metal chafers is certainly eye-pleasing, but maybe your event has a lot of younger guests, and you have concerns about them being able to handle heavy lids. In that case, an action station or platters heated from below (without lids) might be a better option for your affair.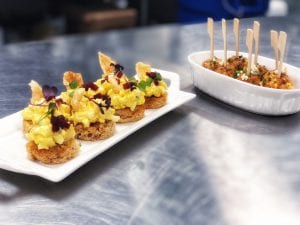 What changes can be made to food items? Just because a pre-set menu is presented with a spinach salad option, doesn't mean that it can't be changed to arugula. Ask the chef about changes or substitutions that can be made. For a tasting that was tailored for you, maybe you loved the spinach salad, but found the dressing too acidic for your taste. Caterers are looking to provide you with a menu that you enjoy, so most chefs are more than willing to help make other suggestions if there is something you didn't love. Just keep in mind, that even if changes can be made, they may come with additional charges. Want oranges instead of apples on the salad? If oranges are out of season, that salad will now cost more. Sometimes cost differences are not as obvious as a chicken for lobster swap, so make sure you inquire about pricing changes as well.
How are dietary restrictions handled? The number of people with dietary restrictions and food allergies has become much more important to hosts of events in recent years. Each catering company has its own policy on this, but in most cases, if you have a small number of guests with restrictions, the caterer will usually be able to offer separate made meals for those guests. If you have more than a couple guests with a restriction, you should think about menu options designed to be friendly to those restrictions – having a vegetarian entree offered as a choice on a plated dinner, or that several items on the buffet line are gluten free. In the case of a VIP having a dietary restrictions (CEO of the company, Groom) then you may want to plan your event entirely around those restrictions, and offer a completely vegetarian event, or ensure that no gluten or nuts are in the menu. Ask your caterer for their option, based on the restrictions you have, and they can make suggestions on how to make sure all your guests can enjoy the food.
Is wine included in the tasting? Most people have alcohol at their weddings, and often want to know how the food will pair with wine. Do they offer wine during the tasting, or do you need to bring your own? If the venue or caterer requires you use a specific brand of wine, you should make sure it meshes well with the food you are selecting. Check out our blogs on pairings for white and red wine.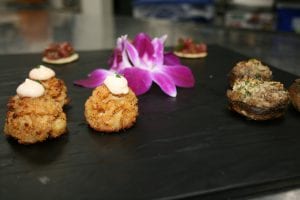 Lastly, come with an open mind and willingness to critique. Remember, this is YOUR menu! A good caterer will want an open, candid conversation about what they have presented. Cheers!
posted by: Simply Fresh Events

in: Catering