Notes from the Simply Fresh Kitchen
At Simply Fresh Events, we are certainly known for our BBQ. Our brisket turns heads, and our pulled pork melts in your mouth. And while we pride ourselves on how much meat we can fit in our Southern Pride at once (almost a ton!) we are excited to be using our smoker to bring more exciting options to our more formal menus.
Enter the pork belly. We quick-cure it, smoke it and pair it with a deliciously sweet caramelized pearl onion. Perhaps you want to try it for your next party…find the recipe below.
Each pound of raw pork belly makes about 15 pieces of finished product.
For the pork belly
3 lb pork belly
1 cup of your favorite savory meat rub (a great example would be any rub you use prior to grilling during the glorious summer months)
1 cup brown sugar (basically a one:one ratio if you want to make a larger portion)
Combine all ingredients for the rub and coat the pork belly on all sides. Let cure overnight.
Smoke at 250 degrees for 4 hours.
For the pearl onions
1 lb pearl onions
3 tb butter
salt and pepper
Place onions in a sauce pan in a single layer. Add salt, pepper and butter to the pan. Fill halfway with water and simmer until onions are tender. If water starts to evaporate before onions are cooked, add more water. When onions are tender let water evaporate and carefully caramelize the onions.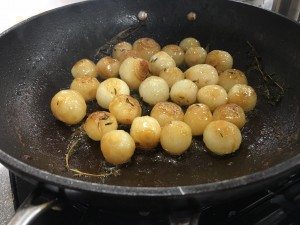 To Assemble: cut cooked and cooled pork belly into 1″ cubes. Skewer with onion. Add micro greens to garnish.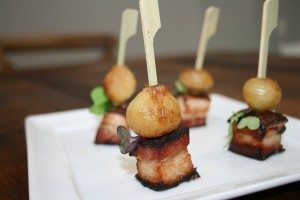 Try not to eat them all before your guests show up.
posted by: Simply Fresh Events

in: Recipes