As the temperature continues to drop, there's nothing like a nice hot soup to warm you up. We would like to share Chef Katie's favorite fall soup recipe. It's absolutely delicious, and vegan, but don't let that scare you!  This soup works great for any fall event, perfect as a warm appetizer offered to your guests as they arrive.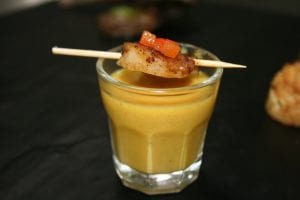 The Best Butternut Squash Soup
Yield: 6 cups of soup
1 large butternut squash, peeled and cut into chunks
1 TBSP of olive, avocado or canola oil
1 tsp salt
1 tsp pepper
1 large onion, roughly chopped
1 1" chunk of peeled ginger
1 TBSP curry powder
1 14oz can coconut milk
Toss squash in the oil, salt and pepper.
Roast in a 350 degree oven until tender and golden brown (about 40 minutes)
Sauté onion until tender, add ginger, squash, and curry powder.
Cook on stovetop until fragrant, about 2 minutes on medium high heat.
Cover with water and bring to a boil. Simmer uncovered for 20 minutes.
Blend soup in blender or with a stick blender until smooth and return to pot.
Stir in coconut milk and season to taste.
For garnish, see where your imagination takes you! We suggest some toasted pumpkin seeds, or finely sliced roasted red peppers. One of the best aspects of this soup is it's versatile enough to compliment anything, so pour it over some roasted chicken, mix in some crab, or eat just as it is. We've also paired this with seared scallops to make it a little heartier.
Enjoy! Call us today to add soup shots to your upcoming event!
posted by: Simply Fresh Events

in: Recipes