Katie's Corner: Peaches & Cream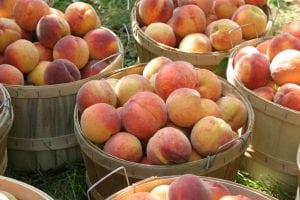 Summer is the season of fruit! Picked at the peak of the season, there is nothing better than fresh peaches. While we now live in a world where you can get anything with free two day shipping, there is actually a comfort in the fact that you really cannot get a good peach except in the height of summer. Because you have to wait, it makes peach season that much more exciting!
A ripe peach might be best eaten simply as-is, with the juice dripping off your chin. But if you are already lighting the grill, here is a great dessert that takes advantage of that!
Grilled Peaches with Ice Cream
Serves 4
4 peaches, cut in half with pit removed
1 cup water
¼ cup brown sugar
½ teaspoon ground ginger
½ teaspoon finely ground pepper
Mix water, sugar and spices together until sugar dissolves and a thin syrup forms.
Coat peaches with syrup and place on a medium hot grill. Let peaches cook until slightly caramelized.
Remove from heat and serve with Vanilla Ice Cream. Drizzle more of the sugar syrup on top if desired.
Enjoy!
Post a picture below on how it turned out!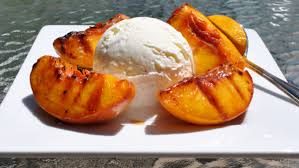 posted by: Simply Fresh Events

in: Recipes