Located on the corner of New Hampshire Ave and R Street lies one of Washington DC's hidden wedding gems. Open to the public for just over 4 years, the Perry Belmont House, now holds private tours by day, and extravagant private events by night. The mansion was built in 1909 by French architect, Eugene Sanson, and is now known for its elegant use of light and space, and its beautiful grand staircases. Home to the first working private elevator in DC, Tiffany vases, oil paintings, and chandeliers with hand-carved rock crystal drops; this wedding venue is a space that requires minimal décor to dress up your big day.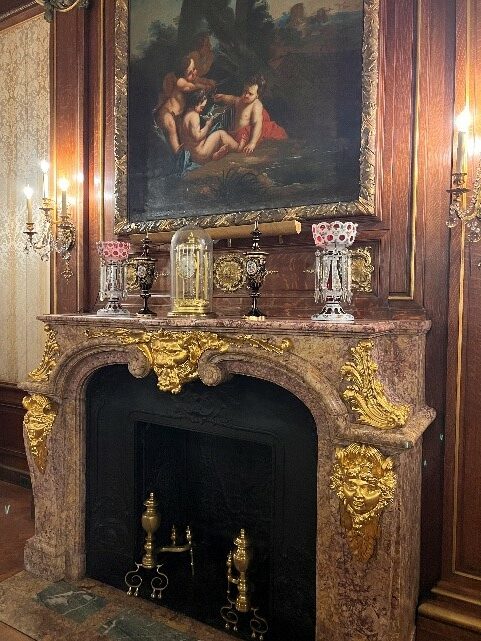 The wedding of Arturs and Sonia started the day before as our team arrived Friday morning to cover the Italian marble floors with thick Masonite board, protecting the mansion's history and beauty. The real party started the next day at 4pm sharp as the newlywed couple was joined by 60 of their closest friends and family in the Grand Salon- also known as the Gold Room, of the Perry Belmont House. This room is decorated with muted beige, shaded, and highlighted with gold-lead upholstered panels. Sonia and Arturs complemented the beauty of this room with gold chivari chairs, and floral arrangements composed of dendrobium orchids, and Italian Roscus foliage lining the aisle.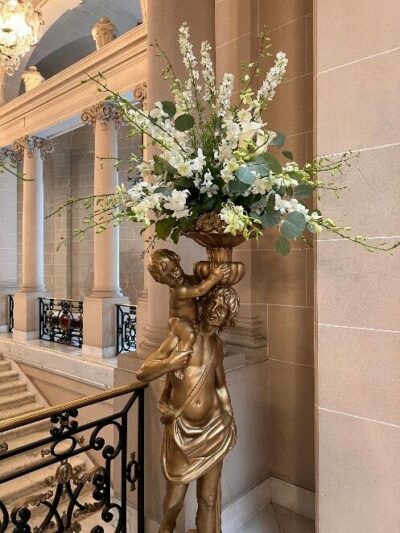 Post ceremony guests were greeted with an assortment of delectable food and drinks – including lobster rolls, chili lime compressed watermelon, white cranberry margaritas, and passion fruit mojitos as they entered the Petite Salon found directly above the entrance hall. This room, at the top of the grand staircase, is accented with 18-foot-tall windows and a spherical rock crystal chandelier to complement the Austrian Baroque Styled room.
The heart of the second floor – The Ballroom – with 19th century oil paintings, red damask upholstered walls, and two bronze chandeliers was home to the reception of Sonia and Artur's night. Guests were invited to their tables lined with satin white linens, gold china, and centerpieces of glass footed containers with white roses, dendrobium orchids, and Italian Roscus foliage. Guests were served a seasonal menu – comprised of a summer citrus salad first course, and either a citrus glazed branzino or filet steak, accompanied by Israeli couscous, broccolini, rosemary fingerling potatoes, with an orange saffron beurre blanc sauce.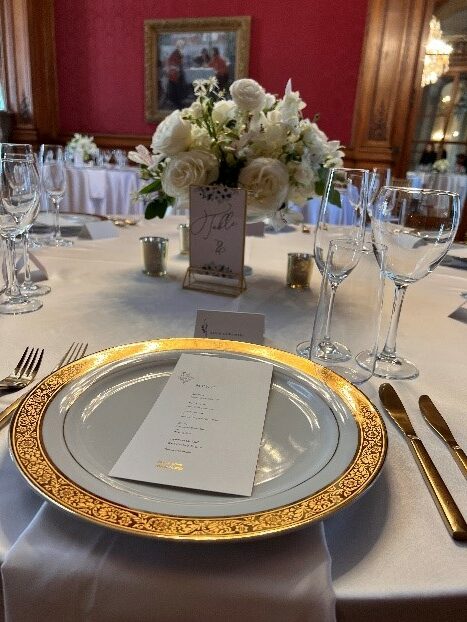 The guests danced their night away under the large circular skylight, accompanied by up lights highlighting the Ballrooms' beauty, and music that kept their guests on the dance floor the rest of the night! If you are looking for a fabulous venue to host your next event, check it out! Thank you, Sonia, and Arturs for allowing us to be a part of your big day!