Katie's Corner: A Devilishly Good Time
Deviled Eggs for A Crowd
The reason people hire caterers is to be able to attend their own party. We pride ourselves in creating fresh food on site when we cater an event. But if you are having a small gathering you can still use some tricks of the trade to prepare ahead in the days before your event so that you have minimal tasks that need to be completed day of—and even fewer that need to be completed while your guests are at your house!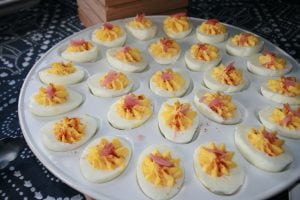 If you make deviled eggs in advance, they have the potential to get unappealingly crusty; however, you can get 90% of the way there and finish them right before your event starts.
How to Prepare Deviled Eggs in Advance
Up to 2-3 Days Before: Boil, cool and peel eggs. Cut in half and remove yolks. Place the egg white halves bowl-side down on a sheet pan lined with paper towels. This will help any condensation that gathers in the eggs to drip out. Make the yolk filling according to your recipe and put it in an airtight container. Refrigerate both parts until about 1 hour before your party.
1 Hour Prior to Serving: Choose a decorating piping tip and fill a piping bag with the yolk filling mixture. Take the egg white halves out, flip over and fill with yolk filling. Garnish as desired.
We suggest garnishing with a little paprika or the Maryland tradition of Old Bay! You can also be adventurous and add a small piece of smoked brisket or smoked lox.
posted by: Simply Fresh Events

in: Recipes