Who doesn't love a perfectly grilled steak, baked potato and salad? But with Father's Day rolling around again on June 19, you might like to consider something different for this year's dinner to honor those special men in your life.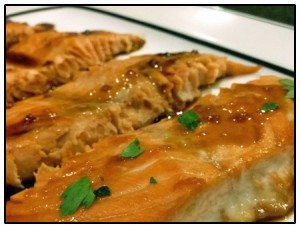 One of Simply Fresh Events clients' favorite grilled entrees is salmon, which is fast, easy and delicious for home cooks as well. You might like to try this Grilled Salmon with Orange Glaze from AllRecipes.com  or this Orange Glazed Salmon from Food.com. If Dad is more of a meat eater, why not try pork for a change? Make life easy and pull out the Crock-Pot for Barbecued Pulled Pork Sandwiches. Or maybe go whole hog (sorry – couldn't resist!) and cook up some of Dad's favorite barbecued ribs. A trick we've learned at home: bake the ribs in the oven first, then finish on the grill with the sauce. That way, the ribs are cooked but the sauce isn't burned.
Take advantage of the farmer's markets now open in our area to create a delicious, seasonal side dish. Buy some fresh golden beets and large, sweet radishes. Peel and cube both veggies to get pieces of roughly the same size. Spray a grill pan or piece of foil with Pam and put on the grill. Mix the veggies together and spread out on the pan. Drizzle veggies lightly with extra virgin olive oil, sprinkle lightly with kosher salt and put the top down on the grill to roast. How long they'll take is dependent upon many different factors, so keep checking with a fork until they're as tender as you like. It sounds like an odd combo – beets and sweet radishes – but try it once and you'll make it all summer long.
For dessert, create a Watermelon Pie. You'll need a springform pan for this one! Buy a seedless watermelon with the largest diameter you can find, then turn it on its side to cut a two-inch slice from the thickest part. Remove the rind, keeping the fruit intact. Use the remaining whole piece of watermelon to fill the bottom of the springform pan like a piecrust. (Add extra chunks of watermelon around the edges if needed to fill the space.) With a mixer, cream together 2 cups granulated sugar and two softened 8-ounce packages of regular or low-fat cream cheese. Use a spatula to fold a thawed 8-ounce container of Cool Whip into the mix. Spread the mix over the watermelon slice. Decorate with fresh berries. Chill for several hours to allow the creamy layer to set. Just before serving, remove the outer rim of the springform pan.
However you choose to celebrate, Happy Father's Day!
posted by: Simply Fresh Events

in: Recipes