Simply Fresh Events is proud to announce that we are supporting Seneca Valley High School athletics this fall. When Simply Fresh Events was founded by Matt and Liz Phelan and Geoff and Jocelyn Barker, it was with the understanding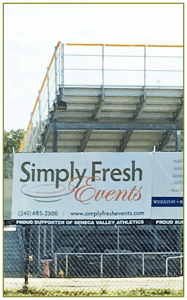 that giving of one's talents to the greater good is just as important as any other aspect of a small business. To that end, they committed themselves and their new company to volunteering time, talents and funds to make a difference in the community. When the Phelans and Barkers found out that some of their employees participate in SVHS athletics and that still other employees coach there, this new commitment seemed a natural fit.
Giving back to the community is one of three elements of the company's mission statement. The company has an ongoing relationship with Habitat for Humanity Metro Maryland and Nourish Now. Both agencies have philosophies and goals that align with those of Simply Fresh Events.