The Simply Fresh office is taking a bit of a January breather after a busy Holiday and wedding season. We find ourselves testing new recipes, making new menus, playing with décor and getting ready to wow clients as we head into 2018.
Maybe it's the cold weather, but we find ourselves increasingly leaning towards comfort foods. While not "fancy" enough for a wedding some of these old time classics are perfect for a winter gathering, no matter what you're celebrating.
We asked our Chef, Katie what she's been cooking up these days.
"At home I've been making Chicken and Dumplings." This is the northern version, with a creamy chicken "soup" topped with fluffy biscuit batter.
If any of you at-home chefs keep your chicken or turkey bones in the freezer, this is a perfect recipe for the home made stock they can render. Just don't forget to keep your vegetable scraps as you're cooking your weekly meals to add to the stock. If you cook often enough, and save your onion tops, scallion bulbs, and carrot peels, you may not even have to buy veggies for your stock. Talk about total usage and zero waste!
Skillet Chicken And Biscuits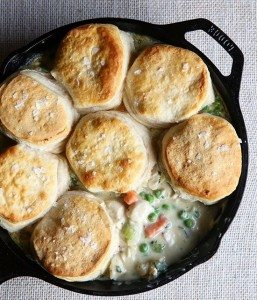 INGREDIENTS:
BISCUITS:
If you don't have time to make your own biscuits for the topping, then use packaged refrigerated biscuits and bake them according to the package instructions.
2 cups unbleached all-purpose flour (10 ounces), plus extra for the work surface
2 teaspoons sugar
2 teaspoons baking powder
½ teaspoon table salt
1 ½ cups heavy cream
FILLING:
1 ½ pounds boneless, skinless chicken breasts
4 tablespoons unsalted butter
1 medium onion, minced (about 1 cup)
1 rib celery, sliced thin
¼ cup unbleached all-purpose flour
¼ cup dry vermouth or dry white wine
2 cups low-sodium chicken broth
½ cup heavy cream
1 ½ teaspoons minced fresh thyme leaves
2 cups frozen peas and carrots, thawed
INSTRUCTIONS:
1. For the biscuits: Adjust an oven rack to the upper-middle position and heat the oven to 450 degrees.
2. Whisk the flour, sugar, baking powder, and salt together in a large bowl. Stir in the cream with a wooden spoon until a dough forms, about 30 seconds. Turn the dough out onto a lightly floured work surface and gather into a ball. Knead the dough briefly until smooth, about 30 seconds.
3. Pat the dough into a 3/4-inch-thick circle. Cut the biscuits into rounds using a 2 1/2-inch biscuit cutter or cut into 8 wedges using a knife.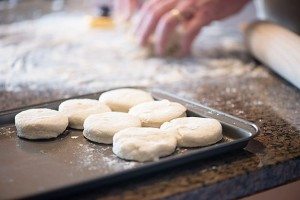 4. Place the biscuits on a parchment paper-lined baking sheet. Bake until golden brown, about 15 minutes. Set aside on a wire rack.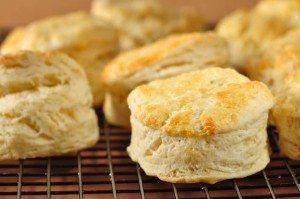 5. For the filling: While the biscuits bake, pat the chicken dry with paper towels and season with salt and pepper. Melt 2 tablespoons of the butter in a 12-inch skillet over medium heat until the foam subsides. Brown the chicken lightly on both sides, about 5 minutes total. Transfer the chicken to a clean plate.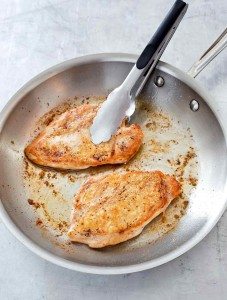 6. Add the remaining 2 tablespoons butter to the skillet and return to medium heat until melted. Add the onion, celery, and 1/2 teaspoon salt and cook until the onion is softened, about 5 minutes. Stir in the flour and cook, stirring constantly, until incorporated, about 1 minute.
7. Stir in the vermouth and cook until evaporated, about 30 seconds. Slowly whisk in the broth, cream, and thyme, and bring to a simmer. Nestle the chicken into the sauce, cover, and cook over medium-low heat until the thickest part of the breast registers 160 degrees on an instant-read thermometer, 8 to 10 minutes.
8. Transfer the chicken to a plate. Stir the peas and carrots into the sauce and simmer until heated through, about 2 minutes. When the chicken is cool enough to handle, cut or shred it into bite-sized pieces and return it to the skillet. Season the filling with salt and pepper to taste.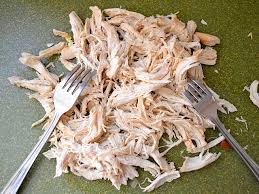 9. For serving: Place the cooked biscuits on top of the skillet or individual servings. You can sprinkle some flaky sea salt or parsley for garnish.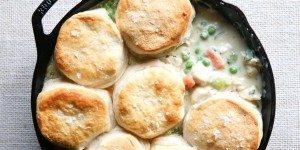 Do you have any hearty and homey recipes you'd like to share? Leave a comment below!
posted by: Simply Fresh Events

in: Recipes