Due to stay-at-home orders, social distancing expectations and concerns over spreading COVID-19, so many of our clients are rescheduling for later in the year or for 2021. But for some, having the ceremony is more important than the venue- so we are seeing a rise in Backyard Weddings!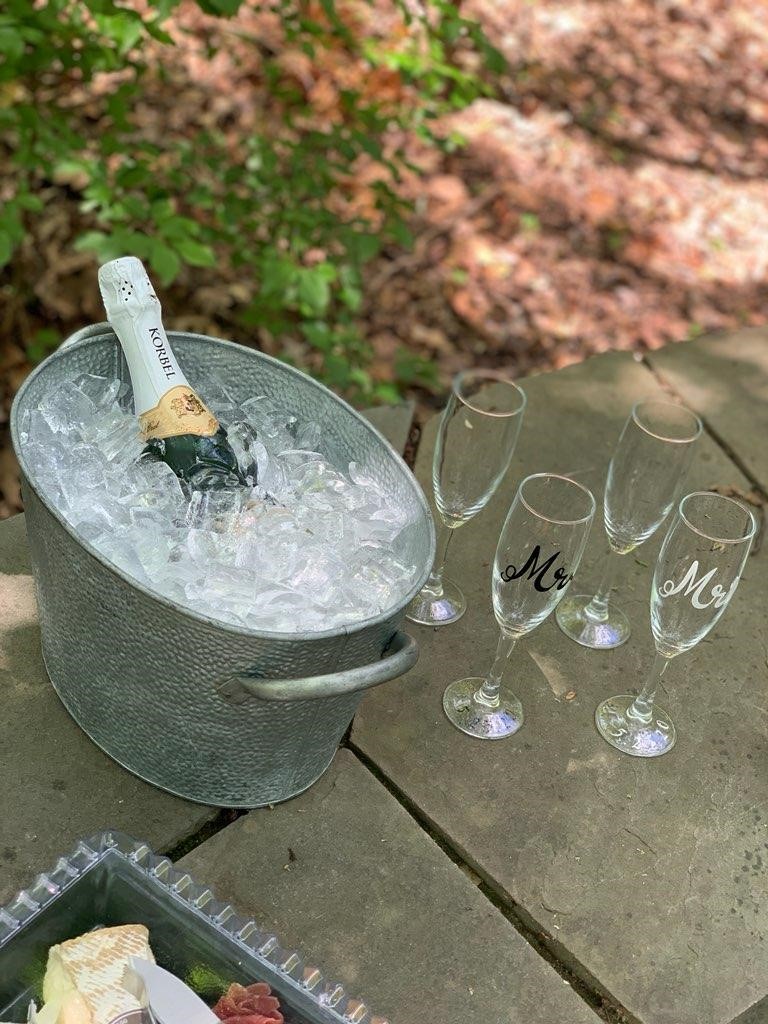 We've seen a trend in many of our clients keeping their date for the ceremony, and planning a bigger party to celebrate once all their guests can be in attendance. Even though these ceremonies are going to be small, with sometimes only the officiant in attendance, that doesn't mean that it shouldn't be a special celebration. As restrictions lift, we can provide everything you need to turn your home you're your wedding venue. Here's our tips and suggestions for making this day one you won't forget:
Rentals: No need to worry about pulling together lawn chairs for your ceremony space, or having to move the event inside because of rain. As full-service caterers, we offer a variety of rentals including tents, chairs, linens, tables, china, glassware and even ice cream carts. We can transform your back yard to a completely different atmosphere with mood lighting and tenting. Use rental china to cut down on disposable waste and not have a pile of dishes to wash after your special day. From small events of 4 or less to 25 guests and more, we can help you plan a special but safe day!
No-Contact Service: There are several levels of what we can provide while still following social distancing. We can provide individual boxed meals, or picnic meals: family-style meals boxed and ready to eat. We've also cooked meals on site, placing courses outside the door of the client. This allowed for a hot, coursed meal while still remaining no-contact. As regulations change, we expect to be able to once again move to staffed events, with some new rules and personal protective equipment to help keep you and your guests safe.
Ceremony: The actual service can be in your home or backyard, but don't forget that this is a great opportunity for a private moment outside. While many parks and beaches are closed, there are still some great trails and gardens that would make a lovely backdrop. And due to most people staying at home, you won't be fighting off crowds of people while saying your vows.

Tip: Bring along a sign to let anyone who does come along know that a ceremony is taking place, and to please stay quiet!
Multi Event Celebration: Make a weekend out of it! (Or a Monday, Tuesday, Wednesday, who's keeping track of days anymore?) Have your ceremony, and share a zoom call with your friends and family so they can see you all dressed up. Have a picnic meal, either in your backyard, outside at your ceremony space or even on your living room floor. Plan your dinner, next day's brunch, snacks, or additional meals through our catering service so that you can enjoy yourselves instead of worrying about the cooking and cleaning.
Drive by Weddings: This idea has been very popular for birthday and graduation celebrations, but would work well for your wedding also! After your ceremony, find a good location to hang out in your wedding day attire while friends and family drive by! They can get photos, drop of gifts and have the opportunity to see you in person. Take yours up a notch by offering boxed treats or meals that they can take with them!
While it requires a bit more care and creativity, it is possible to have plan a wonderful wedding day, even with the current restrictions. Our flexibility and rental options mean that your options are not limited, no matter where we are in the re-opening process. Contact us for more information, or for our sales team to help put something together for your special day!
**All possible services pending the official safety and distancing mandate of each state and county we serve**