Simply Fresh Events Attends Catersource
This past week, we had the pleasure of attending Catersourse – an industry leading event planning and catering convention to sharpen our skills and knowledge. With the vast number of classes including interactive deserts, defining your company culture, social media best practices, designing with lighting, and leadership building within your team…we were ready to learn!
Truthfully, we look forward to this event every year because coming together as an industry is what makes catering the amazing profession that it is. The teamwork, collaboration, creativity, and number of "ah ha!" moments that we experience is quite astounding. We love to gather ideas and insight from our colleagues across the country, and see what's trending (and what's not!) in other markets. This knowledge helps us build truly unique and affordable – yet stunning – events for all our clients, large and small.
Some of the highlights we took away from this year's conference – and it was hard to narrow it down to just enough for a blog – are:
Our President, Matt, was very interested in #nowastechef: Creating a kitchen that limits waste or eliminates it entirely. Here at Simply Fresh, we already work hard to accomplish this goal by aggressively recycling, composting all food waste, and donating all leftover prepared foods to Nourish Now, a group that redistributes cooked food to needy families in our local area.
Our Chef, Katie, was very interested in the molecular cooking techniques class…especially the dry ice popsicles! All joking aside, we're going to be experimenting with foams – think chocolate mousse and lemon meringue foam – and faux caviar (where you can flash freeze small balls of balsamic vinegar, mayonnaise, or any savory or sweet sauce) to top some of our more decadent appetizers and desserts. At Simply Fresh, we really want to make your event stunning to the eye as well as your appetite!
Jocelyn, our lead Wedding Event Planner, enjoyed the 2017-2018 wedding trends class where "Beyond The Bouquet" floral designs and alternate décor ideas for table settings were the hot topic! More and more these days, brides are looking for sentimental and long-lasting décor so that they can keep a part of their wedding day for a lifetime. Some brides are even sourcing décor items from their friends and family that are meaningful to their relationship!
Geoff, Director of Sales, was truly inspired by a class specializing in upping the personalization effect of proposals for clients. From presenting a proposal in a kid's book binding for a children's event to integrating elements of a corporate client's logo or business profile into their proposal and event details, it's really important to make each client feel that you've taken time to evaluate who they are and what they represent. Whether it's weddings, picnics, or disaster catering, clients want to feel like people and not dollar signs.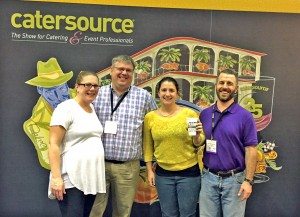 While we had a great time with our colleagues in New Orleans, we're truly excited to be back preparing for our spring season, and firing up our Catersource inspiration for all our fantastic clients!