Simply Fresh Events And Disaster Assistance Catering
As you can see, we've been quiet on the blog front for a few weeks. No, it's not winter hibernation! Simply Fresh Events proudly offers disaster assistance catering for emergency workers during storms and other natural (and sometimes man-made) disasters.
During the most recent wind storm that knocked out power to over 160,000 homes in the DC, Maryland, and Virginia area, workers came in from as far as Tallahassee to get the power back on. Most people don't realize what it takes for these workers to do their job in the most extreme conditions. They work in 14 hour two-man teams fighting wind, rain and snow…and they've got to eat! We provide hot breakfast, lunch, and dinner every day for these tireless workers – and that means we're working 'round the clock as well.
During this storm, we cooked out of a central location and provided meals to four service centers. Each service center had a minimum of 250 workers. Each day featured a different menu so that the workers had some variety to their meals.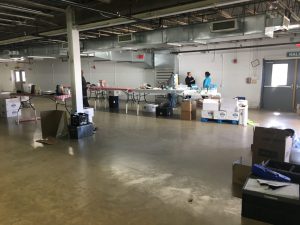 Some statistics on what we served over the five days:
15 palletsof water
600 pounds of eggs, 360 pounds of bacon
5000 sandwiches
3000 bags of chips
1600 pieces of fried chicken
320 pounds of bananas
27,000 cups of coffee
4,920 bottles of Gatorade
While not glamorous work (as you can see in the photos!), it is so rewarding to help these workers and give them a hot and filling meal after a long day out in the cold. While it's never ideal when disaster strikes, we're always here to support the wonderful workers who try to make our lives normal again after blizzards, hurricanes, tornadoes and anything else Mother Nature can throw our way!