Perfecting The Company Picnic
A company picnic is a great way to show your employees your appreciation for their hard work and dedication. Outdoor events are a crowd pleaser, but they come with their own challenges. Here at Simply Fresh Events, we recommend these tips to plan a memorable company picnic.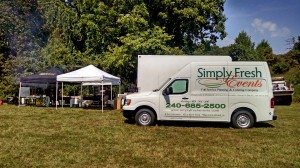 DO make sure you have the logistics covered.
Outdoor venues may not have the amenities required for a successful event. You need to ensure that you have the proper permits and permissions to have your event in the chosen space. You need to have running water and electricity for food preparation and easily accessible restrooms. Depending on the type of food service and time of year, you may need generators, tents, and heaters. Don't leave your employees out in the cold! If your event requires any of these, we can help you with any rentals you need.
DO determine the number of guests.
The number of guests will help you shape an accurate budget. The size of your event will be determined by this number. This means you will need to determine if your picnic will be an employee-only event or if employee family members will be allowed.
DO include games and entertainment.
Games, activities and entertainment will encourage your guests to interact with each other and to bond outside of the office. Plus, they give your event personality and flair. Whether it's a face painter, DJ, Moon Bounce, or field games – the sky is the limit, and we can find the right entertainment for your picnic.
DO choose a caterer who knows large crowds and outdoor venues.
(hint: it's US)
Simply Fresh Events can cater a picnic for any size crowd. Since we cook all food fresh on site, we can commit to making your picnic a soaring success. From burgers and brats to ribs and pulled pork – or even a pig roast – we've got you covered. We are passionate about making your food the star of the show and leaving your employees raving all year. We sweat the small stuff so you don't have to.
DO make sure your employees are safe.
Summer events require attention to detail to make sure that everyone has a great time while staying safe. Make sure that you have enough tented areas to provide respite from the sun and plenty of water to prevent dehydration. When using inflatable structures, know the unique safety concerns associated with them and how to properly anchor them. Also keep in mind any event where children will be in attendance. Some ideas for activities may be great for the adult crowd, but aren't very hospitable or safe for the kiddos.
Most importantly, have fun! Planning a large-scale employee event can be stressful and time-consuming. Even those planning the event need to be able to relax and enjoy the fruits of their labor. Before you find yourself getting too overwhelmed, contact us. Large employee events are one of our specialties. We take care of everything from planning and set up to execution and clean up.
You can find a great resource on our website: the worksheet for planning the best picnic ever. Here, we give you a good idea of what to keep in mind, ideas, and budgeting to make your next employee picnic a success!