Tips for Planning an Outdoor Wedding in the Summer
Simply Fresh continues to help clients with outdoor wedding ceremonies, cocktail hours, and receptions. They can be beautiful, but they can quickly become out of hand and unbearable for you and your guests. The following tips are some things we consider and suggest when we know one of our couples are considering an event outdoors.
Beware of the weather! You want to make sure to keep in mind the time of year you are getting married. Maryland and Virginia summers can be hot and humid; you should have fans and cold drinks available to guests, especially if your ceremony is outside.
Always make sure to have a Plan B. Rain won't ruin the day, but your guests won't be very comfortable sitting on wet chairs and having their wedding attire soaked through. Make sure to talk with you event coordinator about a tent or moving the party indoors if needed.
Keep the bugs away. Incorporate sprigs of thyme, lavender, rosemary, and mint into bouquets, centerpieces or even tie them onto the chairs at the beginning of every row at the ceremony. These herbs act as a natural pesticide, keeping some of the possible bugs at bay.
Plan your menu around the weather. In July, nothing is more refreshing than a cold watermelon salad or a melon gazpacho to cool you off a bit. Keep in mind your guests will be warm, so a hot heavy meal will not really go over too well. A cold green bean salad is a nice alternative to traditional roasted vegetables. Make sure to check in with your chef to ensure your menu is appropriate according to the weather.
Be aware of what time everything is scheduled. If you want beautiful sunset pictures, confirm the time and make your event coordinator aware, so events like the toasts, the first dance, or cutting the cake are not scheduled at the same time. Plan ahead, that way you will not have to sacrifice the pictures that you want because your cousin chose to give the world's longest toast with a story about when you were 5.
Contact Simply Fresh Events to help you with your upcoming nuptials!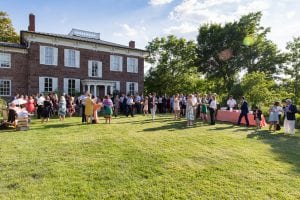 posted by: Simply Fresh Events

in: Weddings