May Food Feature: SHORT RIB
When picking proteins for your guests, don't sleep on the classic beef short rib. Cooked low and slow for super tender deliciousness, the tried-and-true meat cut has been a staple of banquet style events for as long as catering has been an industry – and for good reason. Our ol' faithful short ribs are a blank canvas for delicious, savory dishes. 
Need a crowd pleasing appetizer? An interesting way to use short rib as an hors d'oeuvres is to deconstruct an entree dish and serve it as an elevated passed appetizer in bamboo boats. Check out our braised beef short rib bite with caramelized onion and creamy parsnip puree, or for something hand held, how about our short rib and Manchego crostini?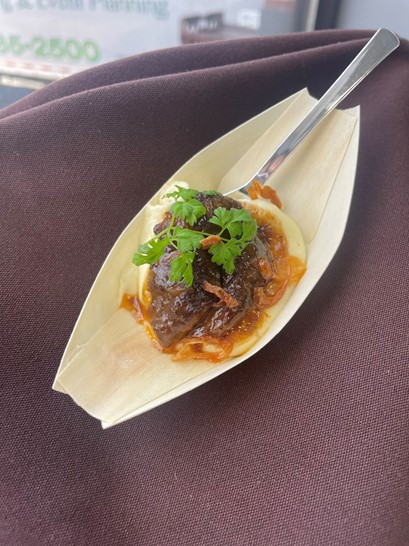 When planning an event, the culinary choices can be an opportunity to let your theme or personal touches shine. Within various regional and global cuisines, Short Ribs shine; Argentinian short rib with chimichurri, Hoisin glazed short rib with Simply Seasonal Vegetables and Saffron Rice, Korean BBQ Marinated short rib with sesame green beans, Build Your Own Polenta Bar with short rib in red wine reduction… The options are endless with Simply Fresh Events as your custom caterer.