Last Minute Thanksgiving Appetizers
Did Thanksgiving sneak up on you this year? Find yourself with empty hands heading to give thanks with loved ones? Scrambling to get your own menu ready for family to descend? Simply Fresh Events has some go-to last minute appetizers that make it look (and taste) like you put a lot of time and effort into your festive offerings…even if you didn't!
Pimento Cheese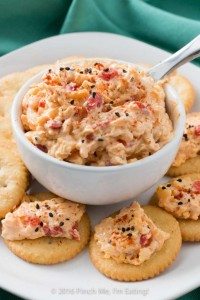 There's a reason this Southern staple is a crowd pleaser. With creamy mayonnaise, sharp cheddar, and sweet/sour pimentos, this spread is both decadent and simple. You can spread it on a Ritz Cracker as is tradition, or lightly toasted baguette. We suggest you add a splash (just a splash!) of pickled jalepeno juice for some back-end heat without making it too spicy. Want to skip the spice? Substitute pickle brine for an added tang. You can find a great recipe here.
Lemon-Thyme Whipped Ricotta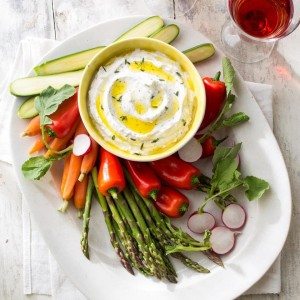 Add some flair to your boring crudité platter this holiday season with this simple – and QUICK – dip. Just add some fresh lemon juice, finely minced shallots or chives, and fresh thyme to part skim ricotta and hand-mix until just combined. Drizzle with some fresh cracked pepper and extra virgin olive oil and serve with toasted pita and fresh vegetables.
Blue Cheese and Fig Bites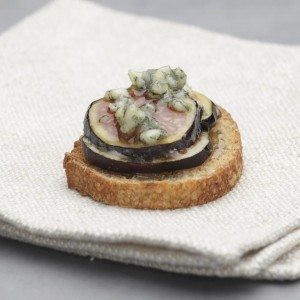 A classic flavor combination, and one that's sure to wow your guests is a simple toast point topped with thinly sliced figs (fresh, not dried), crumbled maytag blue cheese, and a drizzle of honey. You can make this ahead on platters stored at room temperature (the cheese will actually benefit from 30 minutes in open air to soften for the "bite"), making it easy to provide some beautiful and delicious appetizers when your guests arrive.
Cheesy Pull-Apart Pesto Bread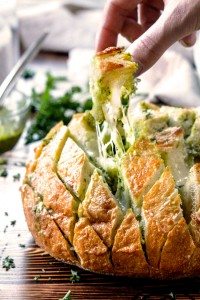 Another recipe you can make ahead and pop into the oven when it's time to amaze your guests is this delicious recipe! You start with a boule of bread from your favorite bakery and slice almost all the way through and repeat in the opposite direction, creating a cross hatch. Then, pour melted butter into the slices. Finish by spooning pesto, parmesan, asiago, and mozzarella (firm, not fresh) into the cross hatching. At this point, you can refrigerate until ready to heat – 375° for fifteen minutes wrapped in foil. Then remove foil to expose the top and finish an additional ten minutes.