How To Plan The Ultimate Parking Lot Party
Utilize Your Own Parking Lot and Corporate Space For Your Employee Party!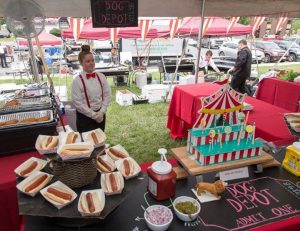 With the restrictions on gather sizes lifting in the pandemic, what better place to have your team gather to celebrate than your space!  You want to show your employees you appreciate them, the last thing you want them (and they want to do) is give up their personal time.  This results in low employee turnout…which is the polar opposite of the party's desired meaning!  Maybe the best idea would be to utilize a spot you already have access to, and hold it during the week when you can give your employees a half day where they don't have to commute to have fun!
Here are some ideas for throwing an amazing party that will show your employees how much you care!
Ensure you have permission to use the parking lot, surrounding grounds and space. Many times, you share the lot with other tenants and need to be respectful of their arrival and departure times.  Be as supportive as you can regarding assistance prior to and day of to be sure you are showing excellent faith.  Consider Fridays first – many employers and employees would be much more willing (and likely) to depart on the early side before the weekend.  Additionally, if securing rights to the entire parking lot is a struggle, see if you can negotiate a corner or section only.  If your co-tenants and property manager feel like you're trying to make it work for everyone, they will probably make it work for and with you!
Dress the space! Just because it's a parking lot doesn't mean it has to look like a parking lot!  Hay bales, corn stalks, chalk designs…get creative!  These ideas aren't expensive, and make the space fun!  Some seasonal ideas include: Octoberfest, Christmas in July, Carnival, Circus, Baseball or Football, and on and on it goes!
The sky's the limit when it comes to activities for your employees! Dunk tank, mechanical bull, lawn games – make it fun (and competitive!) for your team.  You can create an Olympics of sorts and keep score for those playing on a large chalkboard!  You can also feature face painters, temporary tattoo artists, magicians, and even local bands (who usually love the exposure)!
Don't forget your rentals! Sure, the weather might call for a sunny day, and the hay bales might seem like enough seating, but you probably want to make sure you have an adequate tent (plan for, but don't hope for rain), tables for your buffet and service lines as well as your games and activity tables!  Depending on the time of year, you might also want to plan for heat and/or cooling fans.
Food! It's all about the food!  There's nothing better than a barbeque picnic. Think burgers, dogs, BBQ chicken and pork, half smokes, pit beef…but don't forget the sides!  Potato salad, mac and cheese and cole slaw are all favorites.  Be sure to make arrangements for any dietary restrictions, allergies, or preferred diets.  There are many great recipes and products (more than ever, actually) for those with a gluten sensitivity, vegetarian and vegan diets, and for a whole host of allergies.  It's very important to remember that these employees' needs are just as important!
Lastly, have fun. You don't have to do the work, and neither do your employees.  Here at Simply Fresh, one of our specialties is outdoor company picnics, and we have all the resources, vendors, and manpower to make your parking lot party as awesome as your employees.  Let us do the work…while you let your employees show their appreciation for YOU – the boss – by putting you square in the dunk tank!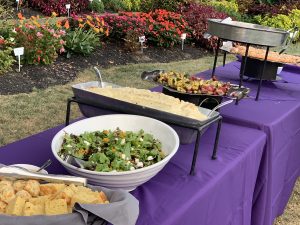 Call Simply Fresh Events, our planners are here to help!  Cheers, and happy planning!