Essential Ingredients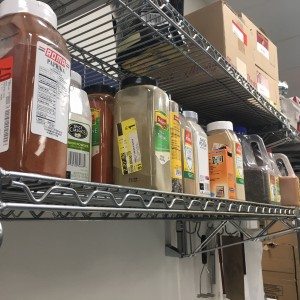 Ever wonder what your favorite catering Chef does when she gets to a site and she is missing a crucial ingredient or seasoning? Well, our Chef doesn't have to worry, because she's put together a spice box that she takes to every event! She's compiled a box of all the spices and seasonings that she will might possibly need to make sure that everything Simply Fresh Events makes is perfection. Want to know what's in it so you can tailor your spice cabinet to ensure you never have to worry? Well, not to worry, because we're going to share Chef Katie's 10 crucial spices/seasonings to always have on hand.
Salt
This is an obvious one, but you never want to run out of salt (even if you're health-conscious or even if you're making dessert!). Make sure to stock Kosher salt as it has a much bolder flavor and texture for all your baking/cooking needs. To finish delicate dishes, you can stock any number of artisanal salts, such as Himalayan Sea Salt, Black Lava Salt, French Grey Sea Salt, Truffle Sea Salt…the list goes on.
Celery Seed
The must-have for any and all coleslaw (in her opinion). Make sure your tangy cole-slaw is balanced with this earthy and peppery seed for a winning combination.
Lemon Juice
Talk about balance! Everything is better with acid, and fresh lemon juice can lighten any heavy dish. From alfredo to potato salad, a spritz of lemon juice can ensure that your dish is perfectly seasoned and neither too heavy nor too rich.
BBQ/Mesquite Rub
Perfect for all cuts of meat, a solid and home-made BBQ or mesquite rub will tenderize perfectly. A quick rub about 30 minutes before grilling is a perfect alternative to a marinade and the spices will end up having a smoking effect on your meat when put to the flames. We custom-blend ours instead of using store bought because we like to control the spice/salt quotient, and to avoid chemicals in our preparation.
Course-Ground Black Pepper
Another no-brainer, but pepper is essential in making sure that all dishes (especially salads) are seasoned to perfection. We use both hand-ground from a pepper mill to finish dishes, and bulk-ground for recipes.
Panko Bread Crumbs
These are not your mother's breadcrumbs (although we're not judging). Japanese Panko breadcrumbs are larger and courser and maintain texture far better than traditional breadcrumbs when baked. They are also a much more filling and fluffy addition to meatballs or and other panade than white bread.
Vegetable Or Olive Oil Spray
Another easy-to-forget essential is a high-quality vegetable or olive oil spray. Perfect for grilling, ensuring a stick-free baking dish, or keeping parchment paper from sticking, the uses are endless. We use a fine olive oil mist to finish all our salads and appetizers.
Smoked Paprika
Want to know the secret ingredient to our spectacular mac and cheese? Smoked paprika. When used sparingly, guests won't be able to put their finger on just what makes your mac so delicious. It's the mysterious secret ingredient (along with panko bread crumbs) that will keep them coming back for more…and more… Just be sure to make a double batch!
Garlic Powder
A good-quality garlic powder can resurrect most savory dishes. Again, when used sparingly, it can add a great balance of seasoning and get your dish over that last hurdle. A must-have for home-made Italian dressings, BBQ rubs, and mashed potatoes. We do not recommend garlic salt as it makes it hard to control the salinity of your recipe and the salt/garlic quotient tends to work against one another.
Old Bay Seasoning
We're in Maryland, after all! We use Old Bay Seasoning in our crabcakes, and we make an Old Bay aioli to garnish our shrimp skewers! Old Bay Seasoning is a must-have for any spice cabinet near the Chesapeake!
posted by: Simply Fresh Events

in: Catering