All You Need To Know About Wedding Vendors
Wedding planning can seem like an overwhelming task, when you start looking into the decisions that will be need to be made for the day. The good news is that there are so many resources to help you during your planning; websites like theknot.com and weddingwire.com, books, online forums, friends and family, and the wedding vendors that will provide services for your event. In cases of full-service catering, such as Simply Fresh, we can provide as much assistance as you need to make your big day complete!
To make everything seem a bit more manageable, we've compiled a list of vendors you might need to consider for your wedding:
-Venues: Beach wedding, ballroom wedding, top of the mountain wedding. One of the most important decisions you'll make, as you need somewhere to hold all your guests! It can also be the most expensive part of your day, so getting your decisions made on this early will help guide the rest of your planning decisions.
– Catering: Obviously our favorite one! Make sure you know the difference between a full-service caterer (like Simply Fresh) and one that only provides food service. A full-service caterer will provide food, staffing, equipment, linens, plates, silverware, tables, chairs, tents, lighting schemes – as well as the option for a coordinator. The coordinator can help walk you through decisions like linens and table settings, will be present for your tasting, and will be there day-of to make sure that everything proceeds as planned.
– Coordinator: Some venues provide a day-of coordinator, but there are also coordinators offered through full service catering companies, and coordinating businesses. It will be less stressful for you on your special day to have someone whose sole responsibility is making sure the timeline proceeds as planned and that everyone is where they need to be.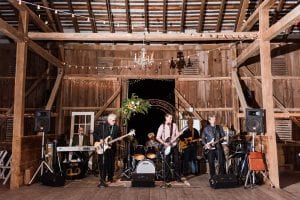 – DJ/Band: Depending on your aesthetic and venue, you might prefer a DJ or band. Bands can be more expensive relative to the size and number of people in the band. One acoustic guitar player is probably going to be easier on your pocket than a 7 member band with multiple instruments and a lot of equipment. DJ's can also get expensive depending on what you'd like from them. Most charge more for providing a microphone and MC services in addition to playing groove-worthy songs. Check out this post on questions you should ask when choosing a DJ.
– Dress/Suits: From rentals to purchasing, this should be one of the earlier focuses for planning, as lead times can be months depending on the brand. Alterations take additional time, and if you have a large bridal party or number of out-of-town attendants, you'll need time to make sure everyone can get in to try on their outfits.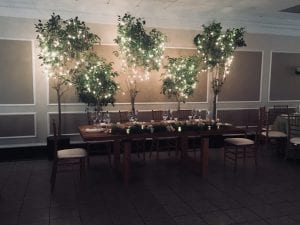 -Floral and Decor: You can go from simple floral centerpieces to full floral decorations for an entire venue. That's all up to you and your vision for your event. Some florists offer additional services for decor, but if you are looking into specific rentals of centerpiece, you may have to use multiple vendors. Many catering companies also can provide decor packages.
– Photographer/Videographer: There are many resources for finding a vendor to document your day, from a simple Google search, to Craiglist ads. Meeting in person will be very important, as you'll want to make sure the photographer's style works with what you envision, and that you can look through their portfolio. If you think you've found a photographer that you like, hire them to do your engagement photos so you can get a feel for their style.
– Hotels/Room Blocks: If you have a lot of out of town guests, or a wedding venue that isn't easily accessible, you will need to consider where your guests will stay for the wedding, and contact local hotels, inn and bed and breakfasts' to see what their policies are on reserving blocks, and what their availability is for bookings.
– Shuttles: There are a lot of reasons your guests may need assistance with transportation. Guests do tend to drink at weddings, not to mention older relatives that may not drive well after dark. Sometimes venues have limited (or no) parking available, or maybe the location is difficult to find. Maybe you just have family members that always arrive late! With those issues in mind, you should put some thought into your guests arriving home after your wedding. If you do have a percentage of your guests staying in one location, offering a shuttle to get them to and from the event can be a good way to make sure everyone arrives on time, and then makes it home safely. Many hotels have shuttle service available, but there are also independent companies that can be hired. We work with Coughlin and Girons , and can setup shuttle services for our events when needed.
– Officiant: Church wedding or Brother-in-law ordained online, you'll need to make sure you have someone lined up to perform the ceremony. Always be sure the officiant can attend the rehearsal!
– Cake (or Alternative): Often the centerpiece of a wedding event, finding the right baker for your traditional cake, cupcakes or pies is important.
– Invitations: If you are looking for hand lettered calligraphy invitations, Etsy has some great shops. You can also find people to design invitations just for you, or you can go the route of purchasing an invitation set and printing them yourself at home. Just make sure to include RSVP info and registries.
– Wedding Website: Having a single location for your guests to see all things wedding day can be an enormous help. Hotel information, fun things to do the next day, rehearsal dinner information, metro accessibility…the list goes on. The best reason to have a wedding website, though, is that you can get information to everyone if your details change last minute!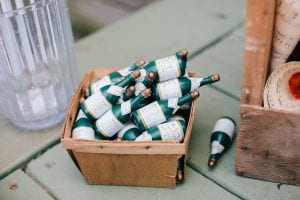 – Favors: From traditional to unique, the options and ideas are endless.
– Extras: What things are important to you? There are so many ways to customize weddings, from photo booths to hand-made chocolates. Offbeat Bride is a great resource for unique weddings, with selections tailored to the happy couple. Check out what other brides and grooms have done to make their day stand out.
posted by: Simply Fresh Events

in: Weddings