What If I Have To Reschedule My Wedding?
During these uncertain times, having to worry whether you will even be ALLOWED to hold your wedding can be a nightmare for many of our clients. Some immediately started talking about finding another date, some held out hope that future dates wouldn't be compromised…but all needed resources that none of us had needed to research or entertain in our professional lives. As this outbreak unfolds, try to stay calm, and here are some ways that you can manage this situation if you have a wedding this year.
tALK TO YOUR VENUE
The best place to start is by checking with your venue to see if there are any dates far in advance of this situation. Do not spend hours reading and re-reading your contract, fearful of rebooking and cancellation fees. We have not encountered one of our venue partners that is not willing to work with their existing clients to find a new date without additional fees. Your venue may be a farm, a ballroom, or a cathedral – but remember, they're still run by people who are just as affected by this as you are. You may have to move your Saturday wedding to a Thursday or Sunday, but there ARE dates available if you can be flexible.
talk to your other vendors
At Simply Fresh Events, we are doing everything we can to honor all contracts we currently have with our clients for this year. This means moving dates, shuffling Wedding Coordinators, sizing down contracts for our clients to help them financially…you name it. We also have an unbelievable list of Preferred Partners that we have worked with for years who are also doing everything they can to support our clients. Again, the love is out there and everyone is financially uncertain. Talk to ALL your vendors to see who else they might know in the business if you cannot rebook someone. Your florist might know a DJ, your photographer might know a Wedding Coordinator – don't be afraid to ask! Start with contacting your single date vendors first (photographer, DJ) as they are more impacted by a date change than vendors like florists, cake, etc.
Talk to your guests
Once you have your new date picked out, communicate this with your guests. If you have a wedding website, this is a perfect place to start. There are also many artists making "change the date" cards for you free of charge or at a deeply discounted rate. You will – absolutely – have to pick up the phone and talk to some of your guests who aren't able to make it or are hesitant to come given the current situation (even if it's months away). Lean on your partner for love and support and remember that you can – and will – get through this. Together!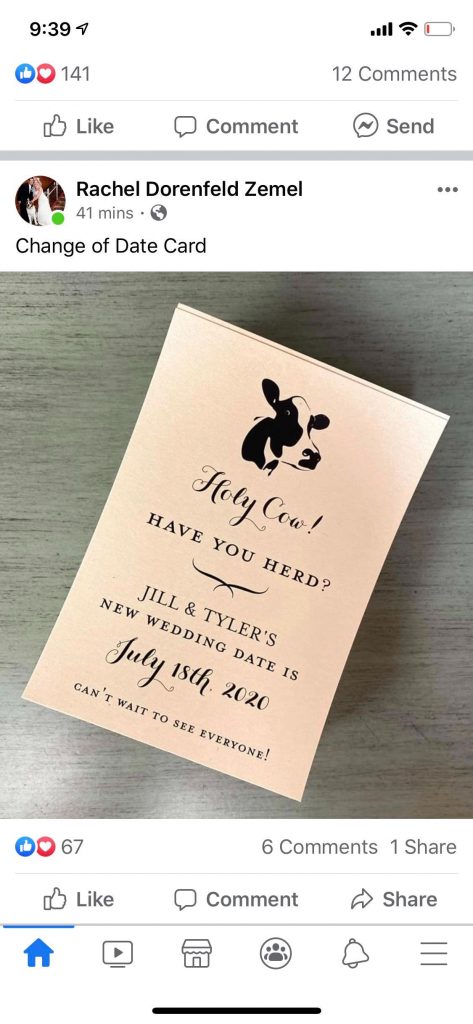 Postpone, don't cancel
Everyone in the wedding industry is in your corner right now- vendors and venues. They WANT to have your event. Work with them, don't cancel, and they will work with you. Not canceling all your vendors means that these (mostly small) businesses can continue to provide services for all upcoming events. And you will have gained a loyal vendor that work even harder for you to make your special day the best it can be.
Change it up
We are being asked by many of clients what changes we will make once "business as usual" comes back around. We all have to be prepared to face food service a bit differently for the foreseeable future in the aftermath of this outbreak. We are talking to our couples about eliminating buffets or group service stations. We are moving many of our clients toward plated meals and fully passed appetizers – even individual cheese and charcuterie! We have always placed the health and welfare of our guests and employees at the top of our priorities, and will find newer and more innovative ways to protect everyone in the future.
Have more questions we didn't cover? Need clarification? We're here for you through this difficult time, so reach out via your wedding coordinator, event manager, sales contact or call/text 240-685-2500.