Wedding Vendor Gratuities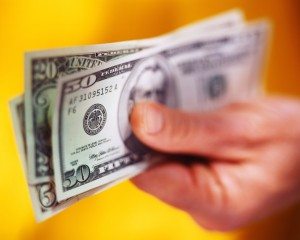 Wedding Vendor Gratuities
Tips.  It's the last thing you want to think about on your wedding day.  However, you have many vendors all contributing toward making your day amazing, and much of that work happens before you slip yourself into that beautiful dress and say "I do."  Sure, these vendors charge for their services, but a gratuity goes a long way toward saying "thank you" for helping make your day as wonderful as you imagined.  Here's a quick guide to who should get tipped and how much:
Wedding Planner
If yours did an excellent job, a token of appreciation is always an excellent way to thank the captain of your wedding ship.  While it is an optional tip, about 75% of couples tip their wedding planner with a 18-20% gratuity.
Hairstylist/Makeup Artist
Most stylists expect a tip – it depends on the scope of the work, but most brides tip between 15-25%.  Your face and hair are front and center, and a monetary thank you is definitely appreciated!
Delivery and Setup Staff
They're carrying chairs and tables and setting tabletops – they represent the muscle behind the curtains of your wedding.  A gratuity is definitely appreciated for these hard working folks!  Ask your caterer how many employees were brought in to set up your event, and about $5-10 per person is a standard tip.
Officiant
If your officiant is associated with a religious venue, you are generally expected to make a donation in lieu of a gratuity.  However, if you enlist an outside professional to officiate your wedding, a gratuity (large or small, depending on your relationship with them and time dedicated to your wedding) is generally expected.
Musicians/DJ
The music can really set the stage for your wedding, and you really should help out these hard-working players with a gratuity if they did a great job.  Standard tipping for musicians is $20-50 per musician (for ceremony or reception), and $50-100 for your DJ, depending on scope of work.  Did the DJ bring any lighting elements?  Did they offer karaoke?  Any additional services should be rewarded with a little more padding on the tip.
Photographer and/or Videographer
You're really not expected to tip a photographer/videographer if they're self-employed or own their own company.  However, if your photographer/videographer work for a larger firm, a tip is an awesome way to say thank you to the people who are memorializing your wedding.  Generally, a $50-200 gratuity is standard, but you may want to tip a smaller amount the night of and wait to dole out a larger tip until you see the finished product (which could take up to four weeks).
Reception Staff
These servers are working hard to make sure your guests have an awesome time and have full glasses all night!  Just like a restaurant, an industry standard of 18-20% of the food and beverage portion of your final bill should be given as a gratuity to the group.
Reception Attendants
This includes bartenders, valet, coat check, etc.  If there is no service charge for these folks on your contract, you probably want to tip these folks.  Bartenders should be tipped along with the reception staff (check with your caterer or the venue manager to make sure they're not sourced from an outside vendor), and coat check and valet attendants should be tipped $1 per guest.
Transportation
If you hired shuttles to transport your guests to and from the wedding venue, gratuities for these drives is generally expected if it's not already billed on your contract.  You should budget 15-20% of transportation bill as a gratuity for these dedicated drivers.
How To Tip?
This is probably the most-asked question that is posed to us…"We're happy to give a tip – but HOW do we give it?"  While we can only speak for ourselves, there are lots of options that are meant to make life easier for you ON your wedding day!
Add a gratuity to your final balance or submit a check directly to your vendor.  In many cases when you submit a gratuity in this way, it is held by the vendor and dispersed bi-annually and is taxed.
Cash to your vendor at your rehearsal or on the day of your wedding.  This ensures that the staff for your wedding receive the gratuity quickly and serves the purpose of being a near-immediate "thank you" for the beautiful day.  Your vendors will make sure the cash is dispersed to those who contributed to your day – some of whom you may not see but who really made the day happen (like our dishwasher, Frank!)
One of the newest technological advances we have embraced is cash-sharing apps like Venmo!  Our clients send their Event Manager or Coordinator the total for the staff and that person then sends the appropriate gratuity to the staff!
Final Thoughts
It may seem like a lot, but all these people are really the force behind your big day.  Without these hard-working people, tables don't get set, cars don't get parked, lighting isn't cast, music isn't played, there's no food, and there's nowhere to sit!
When drafting your budget, make sure you factor these costs into each line item.  This can be the single biggest factor that causes you to go above your expected cost.
posted by: Simply Fresh Events

in: Weddings