There are a lot of "traditional" elements to weddings that have been given a facelift recently – home-made pies instead of multi-tiered wedding cakes, barns instead of ballrooms, knee-length casual wedding dresses instead of long, lacy gowns with trains…the list goes on. There is one little touch to your wedding that has not gone out of style (thankfully!), but has changed with the times to reflect a more personal insight to the couple and their beautiful day: the wedding favor!
The History Of Wedding Favors
One of the earliest accounts of a wedding favor dates back to 16th century England. It was common for couples to give love knots constructed from lace and ribbon to each of their guests as a favor and to represent their bond of love. Throughout history, favors have evolved into a tradition that can be seen around the world.
Bonbonnieres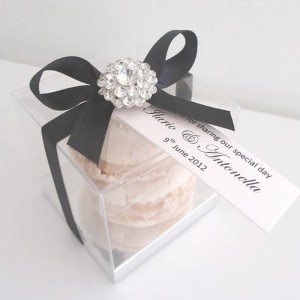 Centuries ago, European aristocrats, most notably those in France and Italy, would send their wedding guests home with a small gift called a bonbonniere, or as it's called in Italian, a bomboniere. A bonbonniere was actually a box made of porcelain, crystal, precious stones or metal. Inside one would find delicacies made of sugar. It was from these boxed and gift wrapped confections that today's wedding favors are derived. A wedding was considered a lucky occasion, and by passing bonbonnieres and other treats onto wedding guests, the couple felt they were also bestowing their good luck upon their guests. In most cases, these lucky gifts consisted of five almonds or pieces of candy which represented fertility, health, wealth, happiness and longevity. One of our tenants, Chouquette, makes custom chocolates for weddings in stylish gift boxes!
These days, wedding favors can be just about anything you can imagine – as long as your guests can take it home! Here are some of the more inventive favors we've seen recently, and you can how it conveys the personality and passions of the couple!
Succulents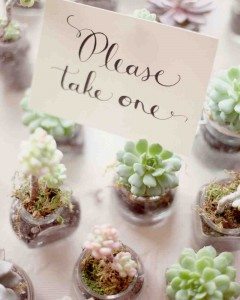 Succulents are a gift that is thoughtful, sustainable, eco-friendly, and almost impossible to kill (for friends without a green thumb). It's also a lovely gift for those apartment-dwellers who can't get their hands in the soil.
Home-Made Jams, Preserves, and Honey
*Britney Clause Photography
Knowing that the newlyweds actually made your wedding favor takes it up a notch. Nothing says love like home-cooking – or jamming!
Plantable Favors
Let love grow with seed packs or plantable favors – your guests just drop them in the ground and they sprout to grow wildflowers, marigolds, sunflowers, daffodils (great for keeping deer out of your garden), or, for the home cook, herbs! There are also fresh herb jars that can be grown on a windowsill that will re-grow over and over again!
Classy Hangover Kits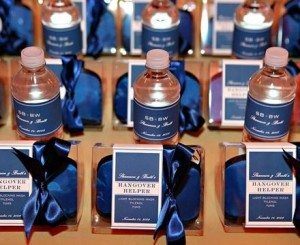 Let's be honest: some of your guests are going to feel the after effects of such a great party the next day, even if they've only imbibed a little. Give them a boost the next day with a cute little tote with a sleeping mask, some tums, aspirin, and a monogrammed water bottle.
BBQ Spice Rub
Throwing a rustic BBQ wedding? Create your own spice blend: Smoky? Spicy? Asian? Garlicky? Leave it for your guests to pick up on their way home, and they'll be thinking of your fabulous wedding when they next fire up their grill!
Have you seen any interesting and inventive favors? Comment below to tell us about them!
posted by: Simply Fresh Events

in: Weddings