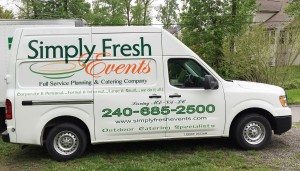 Have you seen our company van out and around central Maryland, northern Virginia and Washington, D.C.? It's had a lot of use as we plan and cater corporate events, weddings and private parties all over our service area.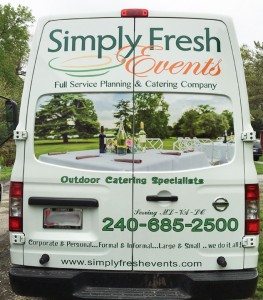 Now this small van has been joined by a large box truck which will soon proudly fly our colors. Our fleet of vehicles is growing just as our business is!
Look for our colors and the distinctive picture on the rear doors. If you spot our van or, eventually, our truck rumbling down the road, call us at (240) 685-2500 or email Director of Sales Geoff Barker, geoff.barker@simplyfreshevents.com, with the location, date and time you saw it to receive a 10% discount on labor at your next event. Stay alert!
posted by: Simply Fresh Events

in: News