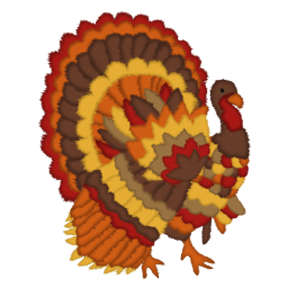 For working women (and men), Thanksgiving is mostly a blur of shopping, cooking, cleaning…and then starting all over again in December. Why not simplify your holidays this year by planning holiday menus that can be prepared all or partly in advance? That doesn't mean tossing out tradition. It just means thinking, planning and prepping ahead. Here are some ideas to get you started.
Cheeseball Turkey: Prepare your favorite cheeseball recipe a day in advance. Prep all the items you need to turn it into a turkey, as shown on this AllRecipes site, and refrigerate them in individual plastic bags. It's a simple matter to assemble the "bird" just before guests arrive.
Sherried Pumpkin Apple Soup: Make this Washington Post recipe two days ahead and serve cold, either as an appetizer in shot glasses or in bowls as a first course.
Old School Sweet Potato Soufflé: Prep this recipe from the Neely's, married chefs on the Food Network, by cooking and mashing the sweet potatoes a day ahead. Bring to room temperature the day of and finish the recipe.
Holiday Potatoes: One of the easiest dishes to make in advance is the mashed potatoes. Enjoy this recipe, which has been a holiday staple for more than 20 years for one of our Simply Fresh Events families.
Perfect Cranberry Sauce: This Food Network Kitchen recipe is incredibly easy. It can be made up to a week ahead, then frozen. Thaw in the fridge the day before or, if you forget, even on the stove the day of the feast.
Dinner Rolls: The dough for these traditional dinner rolls from Martha Stewart can be frozen as far as two months in advance then finished on the big day.
One final word: timing! The key to a successful make-ahead holiday dinner is timing on Turkey Day itself. At least two days in advance, write out a timeline for when you'll remove items from the fridge, do any finishing steps and put them in the oven to heat. Remember that the more you have in the oven, the longer it takes to heat or cook each item. Planning a timeline in advance lets you take all of that into account as well as insure that the turkey itself is cooked thoroughly.
posted by: Simply Fresh Events

in: Catering