"Whether it's the company's annual summer event for 600 or the baseball team's end-of-the-season family get-together, the principles of picnic planning remain the same."
That's how the Simply Fresh Events downloadable, free resource about picnic planning begins. Then it covers these important factors:
Guests, Guests, Guests
Budget
To Cater or Not To Cater
Venue
Theme
Decorations, Entertainment and Favors
Hospitality Starts with H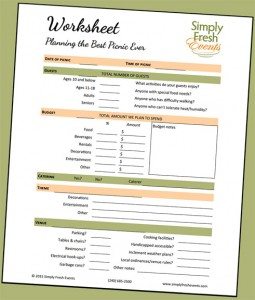 In short, it covers everything you need to know to make yours the best picnic ever. It even comes with a downloadable, free worksheet for you to use in planning your event.
To access this great free resource, visit the Resources and Worksheets page of our website…and keep coming back, as we work to share more of our years of experience in catering and event planning with you.