Did you know Simply Fresh Events specializes in catering hard-to-reach events and large crowds?  We work closely with many major disaster relief organizations that need to feed their workers under difficult circumstances and often in secure areas.  We are very passionate about this portion of our catering work and have immense pride in our abilities to give back and cater those who serve our community.
If you need inauguration catering, please let us know as we are uniquely equipped to cater in secure areas, and for large-scale crowds.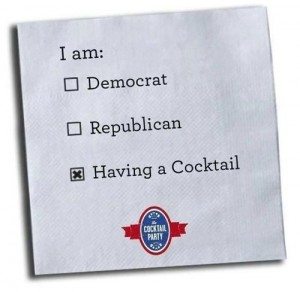 INNAUGURATION CELEBRATION!
Regardless of your political leaning, January 20th will be a momentous day for everyone.  We at Simply Fresh Events have lots of great ideas to help you celebrate!
From red, white and blue lollipop centerpieces to patriotic sangria and everything in between, we have a great creative team to help you plan your own event or host one for you!  We even have a presidential party kit at our fingertips!
It doesn't get more American than apple pie – and while making the whole pie is always a crowd pleaser, these miniature apple pie bite cookies are a winning compromise!
Apple pie is a holiday favorite, and these cookies transform it into a bite-size affair. A pastrylike dough forms the base, and we thicken a filling of tart Granny Smith apples with cornstarch and flavor it with brown sugar, cinnamon, and nutmeg. A lattice top brings to mind traditional apple pie, and a final dusting of cinnamon sugar seals the deal.
APPLE PIE "CUTIE" COOKIES
MAKES 24 COOKIES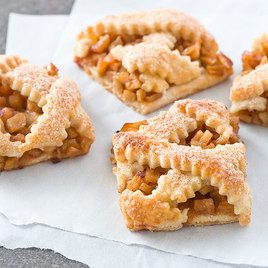 Plan ahead because both the dough and the filling need to chill.
INGREDIENTS
PASTRY
2 1/4 cups (11 1/4 ounces) all-purpose flour
13 tablespoons unsalted butter, cut into 1/4-inch pieces and frozen for 15 minutes
3 1/2 tablespoons granulated sugar
1 teaspoon salt
4 1/2 tablespoons ice water, plus extra as needed
1 teaspoon ground cinnamon
1 large egg, lightly beaten
FILLING
1/4 cup water
1 teaspoon cornstarch
2 tablespoons unsalted butter
1 1/2 pounds Granny Smith apples, peeled, cored, and cut into 1/4-inch pieces
1/4 cup packed (1 3/4 ounces) light brown sugar
1 teaspoon ground cinnamon
1/4 teaspoon ground nutmeg
1/4 teaspoon salt
INSTRUCTIONS
FOR THE PASTRY: Using stand mixer fitted with paddle, mix flour, butter, 1½ teaspoons sugar, and salt and beat on low speed until mixture resembles coarse meal, about 3 minutes. Add ice water and mix until dough begins to come together, about 1 minute, adding extra water, 1 tablespoon at a time, as needed. Divide dough in half. Shape each half into 4-inch square, wrap tightly in plastic wrap, and refrigerate for 1 hour. Combine cinnamon and remaining 3 tablespoons sugar in small bowl; set aside.
FOR THE FILLING: Combine water and cornstarch in small bowl. Melt butter in 12-inch skillet over medium-high heat. Add apples and cook, stirring occasionally, until beginning to soften, about 5 minutes. Stir in sugar, cinnamon, nutmeg, and salt and cook until fragrant, about 30 seconds. Stir in cornstarch mixture and cook, stirring frequently, until sauce thickens, 1 to 2 minutes. Transfer to bowl and let cool completely, about 30 minutes.
Adjust oven rack to middle position and heat oven to 350 degrees. Line 2 baking sheets with parchment paper. Roll 1 square of dough into 12 by 8-inch rectangle, ¼ inch thick, on lightly floured counter. Spread evenly with apple mixture.
Roll remaining dough into 12 by 8-inch rectangle, ¼ inch thick. Using fluted pastry wheel, cut dough into sixteen 12 by ½-inch strips. Arrange dough strips diagonally in lattice pattern over filling, trimming as needed.
Cut into twenty-four 2-inch squares, brush tops with egg, and sprinkle with cinnamon sugar. Space cookies 1 inch apart on prepared sheets. Bake cookies, 1 sheet at a time, until golden, 30 to 35 minutes, rotating sheets halfway through baking; refrigerate second sheet while first is baking. Let cookies cool completely on sheets. (Cookies can be stored at room temperature for up to 2 days.)
Recipe courtesy of Cook's Country December/January 2014
posted by: Simply Fresh Events

in: Recipes