It may still be beach weather, but it's also time to start planning your winter holiday parties. From Halloween through New Year's Eve – and sometimes beyond – much of corporate catering focuses on parties. Frequently, companies like to thank their employees for a successful year or simply provide a time to socialize together outside of the office. Some companies make it a family affair, while others keep it smaller.
As you start to think about what your company party might look like this year, consider some different options for different guests.
Change things up from the traditional company holiday party by hosting an elegant holiday brunch or breakfast. Instead of Mimosas, serve breakfast Poinsettias or offer specialty coffee drinks.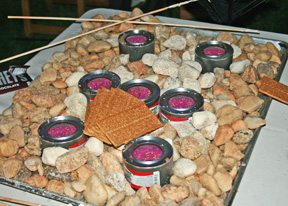 Have a "S'mores and Cocoa Social," featuring our indoor s'mores bar and assorted cocoas.

Host a "Breakfast (or Lunch) with Santa" for your employees' children or children at a nearby homeless shelter.

Stage a New Year's Open House in your office for vendors, best clients, other offices in your building, and/or family members who'd love to see where a brother or aunt or grandchild works.

Have an "indoor tailgate" to watch one of the many professional or college football games scheduled for the weekend after Thanksgiving.

Set aside one day to host a holiday breakfast or luncheon right in your office so that your staff can simply drop by without worrying about parking, changing clothes or doing anything but having fun.
Whether you choose a traditional option or something more outside the (gift) box, Simply Fresh Events will make your company holiday party a success. We handle everything from black-tie soirees to laid-back luncheons, supplying food, decorations, entertainment, rentals, wait staff…even transportation. Contact Geoff Barker, director of sales, (240) 685-2500, today to book your event. Popular dates fill up early! Be sure to check out the holiday specials on our website.