Healthy Boxed Lunches For Kids
Here at Simply Fresh Events, we strive to keep things as healthy and eco-friendly as possible. As a very child-friendly workplace, our focus is on nutritional and healthy meals for our growing family of children. While a good, old-fashioned PP&J can hit the spot, we like to think outside the lunch box and come up with some creative and delicious lunches to feed our tots! Here are some of our favorites:
Quesadillas:
They're a favorite for a reason! A perfect lunch that doesn't need to be hot – served with a great organic pico and some guacamole (be sure to sprinkle some fresh lime juice to keep it from browning), tortilla chips, fresh pineapple and some snappy jicama! Here's a great guacamole recipe – skip the store bought and make it fresh! And here's how to spot a perfectly ripe avocado!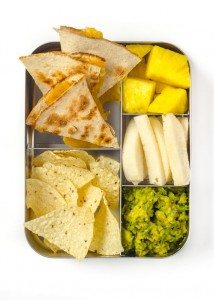 Spring Rolls:
Rice paper rolls or large lettuce wraps are a healthy alternative to bready rolls or sandwich bread. Fill them with tofu, pork, or chicken with fresh veggies – and serve with crunchy red peppers, some sliced cheese, and a bright fruit such as mango and you've got a refreshing and filling lunch! Here's a link to where you can find them if you can't get them at your store.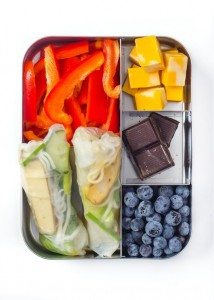 Deli Meat Rollups:
No bun needed! Roll up your favorite deli meat and cheese with some spinach, pack your favorite dippers (a great ranch recipe here – skip the bottled stuff with all the additives, sugar, and chemicals!), and then add some crunchy, cinnamon-sprinkled apples, pretzels, and some fresh celery sticks and you've got a great play on the original boxed lunch of your youth!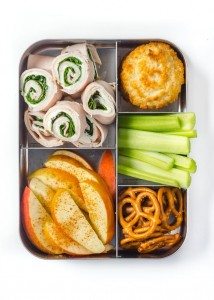 Hummus and Pita Box:
A healthy dollop of hummus and tzatziki with some grilled pita triangles is filling and tasty! Pack with some cherry tomatoes, sliced cucumbers, some cotton candy grapes and some sliced deli meat (think salami or mortadella). Here's a great hummus recipe so you can make it fresh for your whole family!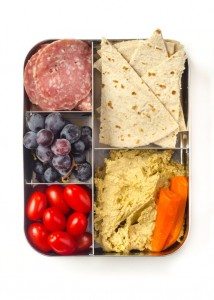 All images credit: Faith Durand
posted by: Simply Fresh Events

in: Catering