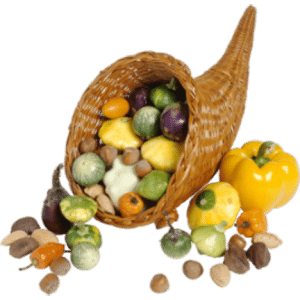 By Katie Wolffe
Are you planning an autumn wedding, either outdoors or indoors? There's nothing more fun than beautiful fall centerpieces on your guest tables to help celebrate. But there's also nothing more delicious than taking that fall theme and extending it onto the plate of food your guests will be enjoying. Gourds and pumpkins are not just for decoration anymore. They can be the base of truly delicious savory dishes that your guests will remember. 
While pumpkins (and other gourds) have long found their place on the sweet side of the dinner divide, there are more than a few savory applications that can make your menu more seasonal and a little different from everything else out there. 
Pumpkins (or most hard-shell squashes) are delicious as a creamy soup. Consider having little shooters passed during your cocktail hour. (If you'd like to try making pumpkin soup at home, an easy recipe from one of our Simply Fresh families is below.)
Add a punch of color (and flavor) to rice dishes by stirring in pumpkin puree to finish off risotto. At Simply Fresh Events, we pair it with our Italian sausages as a savory dish with just a hint of sweetness. 
However you decide to utilize the fruits of the season, be sure that you are working with a caterer – like Simply Fresh Events – who puts fresh and seasonal food first. 
Happy planning! 
+ + + + + + + + + +
Pumpkin Soup
15-ounce can pumpkin (plain – not pumpkin pie mix)
2 cups half-and-half
1 egg's worth of pasteurized whole egg substitute
½ cup sugar
1 teaspoon rum extract or ½ cup rum
1½ teaspoons pumpkin pie spice or combination of cinnamon & ground cloves
Yield: 5 cups soup
Directions: Mix all in a blender. You may need to scrape down the blender sides a few times as you mix to get the spices to blend. Chill thoroughly before serving.
Serving ideas:
Pour into shooter cups or small juice cups, top with a very thin apple slice, sprinkle with a hint of cinnamon. For a more elaborate presentation, hollow out small pumpkins or gourds and put the shooter cups inside.

This also makes a sweet dessert soup. Pour into chilled bowls, top with a dollop of whipped cream and stand a thin apple slice or ginger snap upright in the whipped cream.