7 Company Picnic Mistakes To Avoid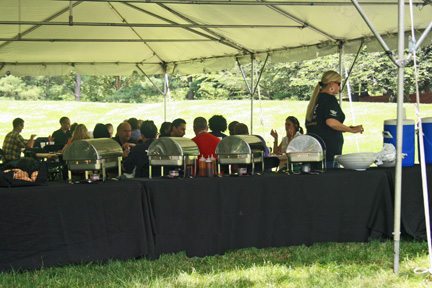 When it comes to company picnics, the staff at Simply Fresh Events has seen it all. (Interpret that as you will.) It's on that basis that we've put together for you a list of the seven biggest mistakes to avoid when you're planning your company picnic.
Ignoring Mother Nature
You remember that commercial, no doubt, that ended with "It's not nice to fool Mother Nature"? Well, it's not nice to ignore her, either. When you plan your picnic, be sure to draw up Plan B – what will you, your guests and your caterer do in case of a downpour or a heat wave? Be sure that there's enough shelter and/or shade for everyone who will be attending. Be sure your caterer has experience with rain and high temperatures and can cook/serve the food without its being ruined. (Yes, Simply Fresh Events has cooked outdoors through rain, wind, heat and even a few snowflakes. We're known throughout the region as specialists in outdoor catering.) Be sure that there's a suitable place indoors for what was to be the outdoor photo session.
Ignoring human nature
As any woman will tell you, a sufficient number of clean restrooms is critical to the success of any party, indoors or outdoors. Do not assume that an outdoor venue comes with the kind of facilities you want to offer your guests. Rented portable restroom trailers – nice ones, some even with AC – may be money well spent for your picnic. And while you're at it, remember that it's also human nature to generate garbage. Does the location you've chosen have enough trash cans for people to dispose of plates, cups, etc.? Are you responsible for taking the trash home with you? Be aware that many venues mandate that you leave nothing behind – not even trash.
Choosing a location that's too far away or too out-of-the-way
That location may offer lots of amenities at a cheaper-than-usual price, but if your guests can't or won't get there, it's useless. A central location off a main thoroughfare is a better location for your event, even if it's at a slightly higher price.
Not accounting for special needs diets
Are any of your guests vegetarian or vegan? (They are different diets, by the way.) Is anyone highly allergic to peanuts or dairy? Do any of your guests keep kosher? Is anyone on a gluten-free diet? One way to find out is to include a place on the RSVP for guests to indicate such special needs. You needn't plan a completely gluten-free or kosher or vegetarian menu necessarily, but be sure to include at least one or two dishes that those guests will be able to eat. To avoid problems, ask your caterer to indicate potential allergens on the menu card at each food station.
Not offering "kid friendly" food
When you're having a company picnic which includes families, it's easy to forget that kids don't necessarily eat what adults eat. It's not just good hospitality to offer some kid friendly food, but it also saves you money. A nice helping of mac-and-cheese with a side of fries is not the healthiest food offering, but it's a picnic after all. Let the little ones enjoy their goodies, while the adults enjoy the more expensive ribs and chicken.
Not having entertainment for all ages
No doubt your employees will love listening to a 20-minute speech from the company president, but the kids? Not so much… The adults will enjoy the picnic much more if they know that their little ones (and even mid-size ones) are being suitably entertained and watched over by some high schoolers hired to lead them in bubble blowing, relay racing, Frisbee-throwing, ice cream eating or other age-appropriate activities.
Not planning for an adequate budget
It goes without saying that an event on the scale of a company picnic needs a budget. While a good event planning company (like Simply Fresh Events) can help you make the most of your money, you still need to have an idea of what you want to spend. As with so many things, it boils down to planning ahead.