5 Best Mother's Day Themes
As we said in last week's blog about Mother's Day meal planning, Dad and the kids can give Mom the best day ever by planning an at-home celebration…especially when they also clean up afterwards! Here are some of our staff members' best ideas about things other than food for Mom's special day. The ideas are grouped into five themes.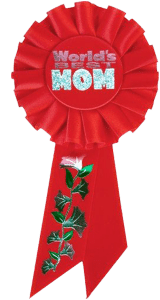 World's Best Mom
Tie shiny blue ribbons around all available objects in the house and on the food table, as in "You're a Blue Ribbon Mom."
Buy a World's Best Mom ribbon for Mom to wear for the day. If you can't find one to buy, let the kids make one out of construction paper.
Give kids a pile of index cards or sticky notes. On each card, have kids write a different way in which Mom is the best. Then let the kids hide the cards all over the house where Mom will find them, even in unexpected places like the laundry hamper or the freezer.
To help Mom celebrate all week, have an adult or older child cut a series of strips of construction paper. On each strip, put a different "thank you" for something Mom has done. Fasten the strips into loops and make a chain to hang on the wall. Let Mom take apart one link a day to read her family's thanks.
Memories
Dig out the old photos and albums and use them as decorations.
If you have tech-oriented children, acquaint them with an easy, free program like Windows Movie Maker. It's a simple matter to drag-and-drop already digitized photos onto a timeline, add music, and have a memorable video to show on your laptop during the party.
Have older kids each write a letter to Mom, thanking her for all she's done and highlighting some funny memories.
Have younger kids work with an adult to write Mom a letter or draw a picture of Mom doing something they especially remember.
Ask Mom to tell some of her favorite family stories from when she was a little girl.
Tea Time
Base the day on Eleanor Roosevelt's famous saying, "A woman is like a tea bag – you can't tell how strong she is until you put her in hot water."
Offer an assortment of hot and iced teas to drink.
Instead of lunch or dinner, set up a true English tea time.
Put all your food offerings on paper doilies – instant daintiness!
Let the more artistic kids make a tea-bag collage or mobile.
If Mom is a true tea-ophile, with her own collection of teapots, take one or two of the nicest ones and make easy, eye-catching centerpieces by filling them with flowers. (Before adding the flowers, crisscross the top of the pot with strips of invisible tape, then stick the flower stems in the holes between the strips.)
Mom's Day Off
Make a large sign to that effect: Mom's Day Off. Then use her favorite items as table decorations – books, hand weights, sunglasses, garden shears, etc. – for a meal featuring her favorite foods.
String together flip flops or casual sandals with yarn and hang overhead like a banner.
Set up a "restful corner" for Mom for the day, maybe a chaise lounge in a shady spot in the yard, with an adjacent TV table on which you've put a tall, cool glass of something, some of her favorite snacks, her sunglasses and tanning lotion, her favorite nail polish, a big floppy hat, and a favorite novel or book of crosswords. Check on her occasionally to see if she needs a refill, but otherwise let her relax.
Batter Up
Let's face it: some moms are the biggest sports fans in the entire family. If that's the case, focus the day on her favorite sport. We'll use baseball for our examples because it's so timely, and you can substitute the accouterments of Mom's sport where appropriate.
Decorate with bats, helmets, balls, and other equipment. String a piece of rope overhead and use clothespins to hang sports socks as a banner. Turn a helmet upside down and rest it in a dish of sand, marbles, packing material, or more socks so that it sits evenly and firmly. Put a vase of flowers or pot of blooms into the helmet to serve as a table centerpiece.
Use paper products and table coverings in the colors of Mom's favorite team.
Get Mom a new baseball cap to wear for the day and wash her favorite team shirt to go with it.
If your backyard allows for it, get up a family game of softball. Let Mom pitch, umpire or spectate – her choice.
Take a family picture with the sports equipment you've gathered.
Of course, you'll want to plan your menu around Mom's favorite things to eat at the game – don't forget the peanuts, popcorn and cotton candy.
Check your local party store for all kinds of sports-themed "stuff." Even your local grocery may have paper goods decorated with team logos.
So that's it for our Mother's Day ideas. Father's Day ideas will be coming soon!
posted by: Simply Fresh Events

in: Catering